ADVANCED OPERABILITY AND COMFORT
The operator-friendly features of the 8FBE series enable operations with more comfortable and maneuverable.
Also, visualization of truck status by display contributes to easy truck management.
LARGER HIGH-RESOLUTION COLOR LCD
COLOR MULTIFUNCTION DISPLAY
Color Multifunction Display is approximately twice the screen size of the previous model. Visibility and operability with various information have been improved by a larger, high-resolution color LCD. A large-capacity QR code display is also available. With the new data logging capability as a result of additional memory, serviceability is improved.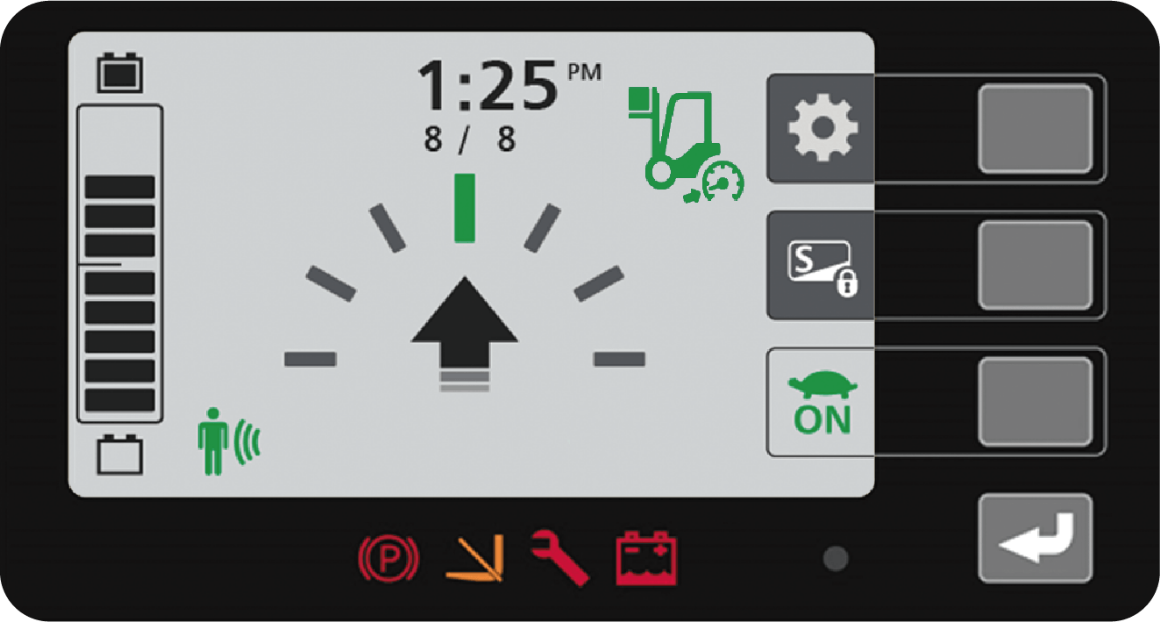 SELECTABLE SCREEN BACKGROUND COLOR
The Background color automatically switches in response to direct sunlight (Enabled via settings.)

POWER-SELECT FUNCTION
Selectable power modes according to operation or operator preferences.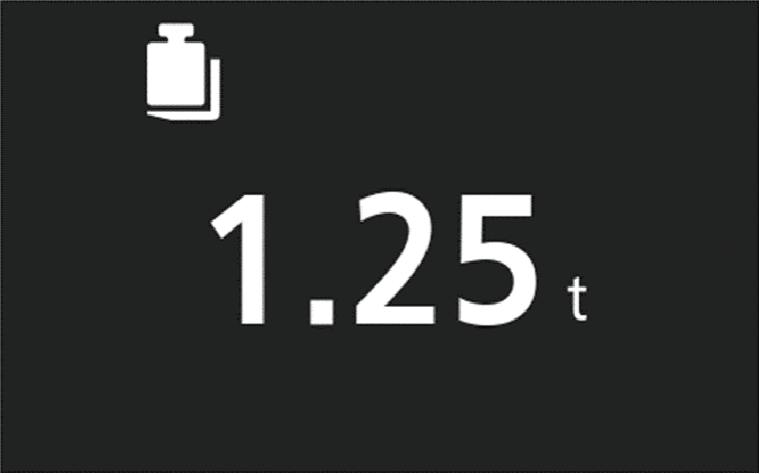 LOAD METER
Returning the lift lever to the neutral, load weight will be displayed on the display.
* The values indicated cannot be used for commercial transactions.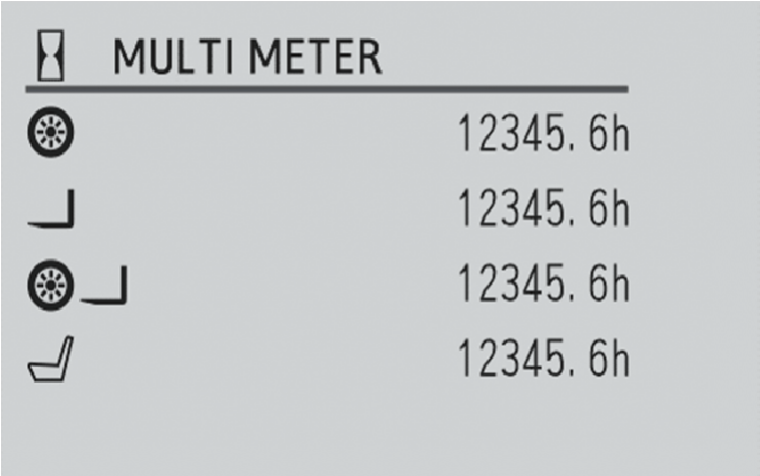 MULTI-HOUR METER
This screen shows the accumulated key-on hour meter, travel/load handling hour meter, and seat-on hour meter.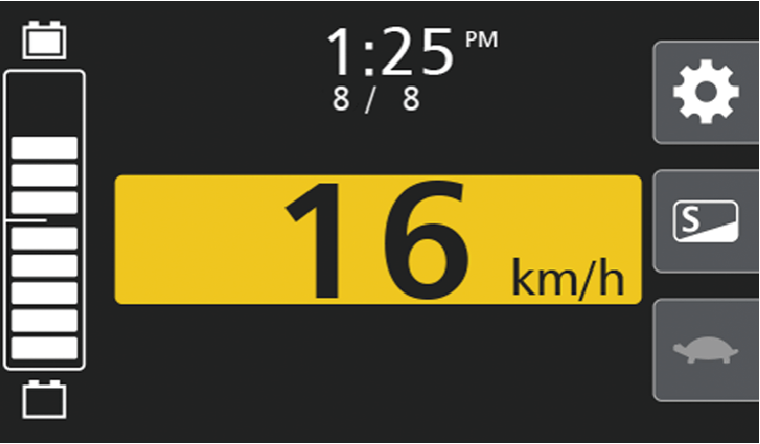 OVER SPEED ALARM
When the travel speed exceeds the preset value, the background of the speedometer turns yellow and a warning buzzer notifies the operator.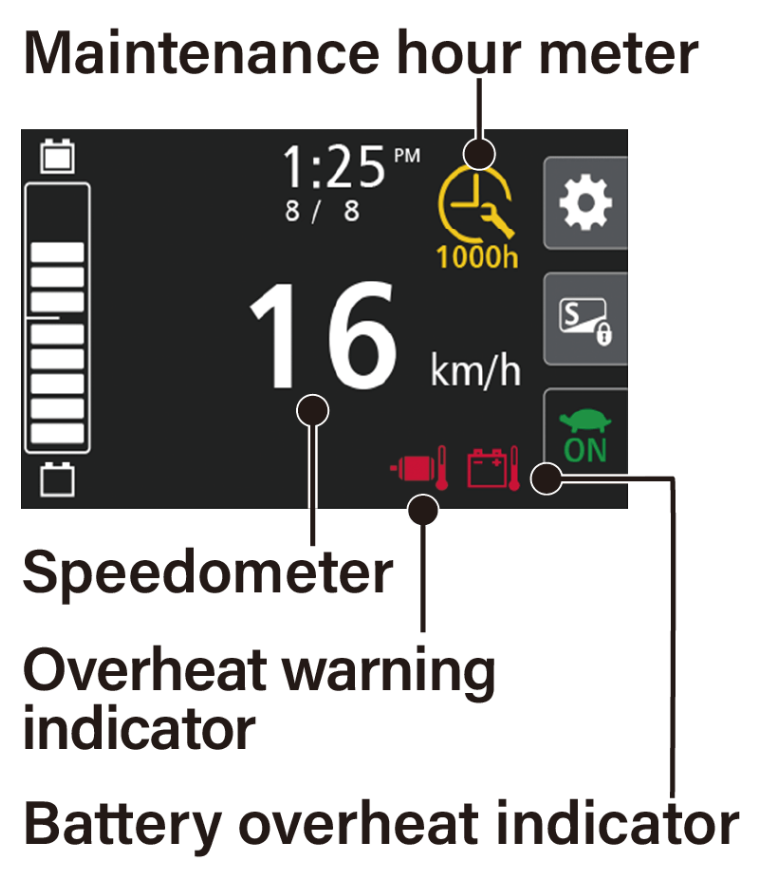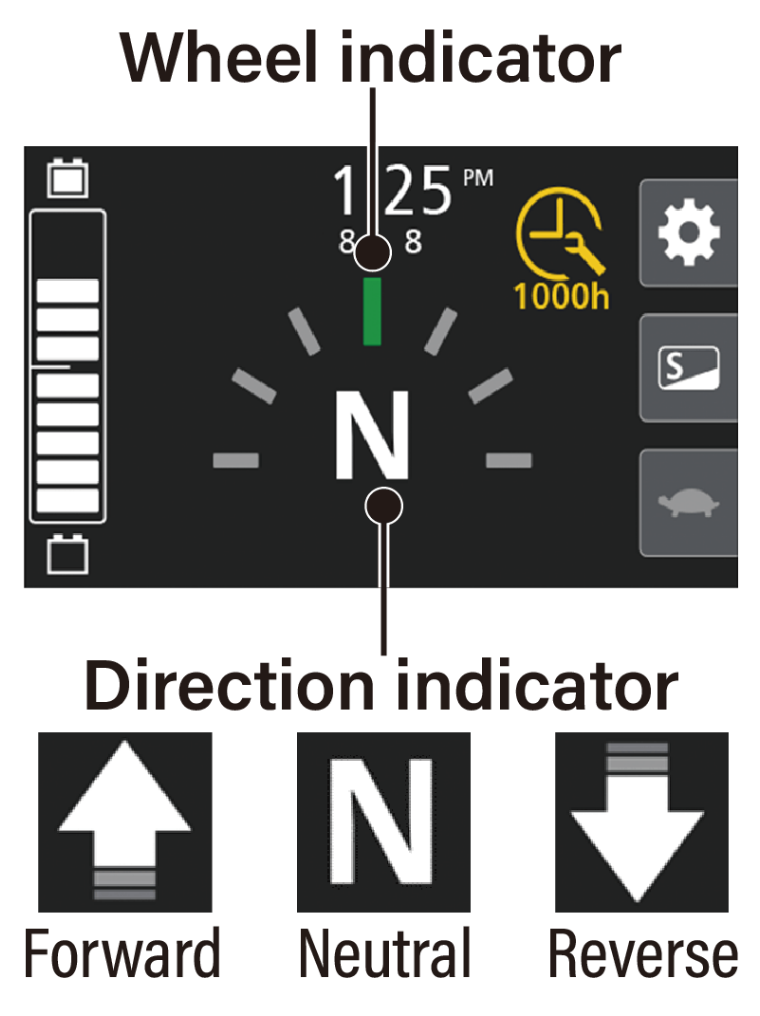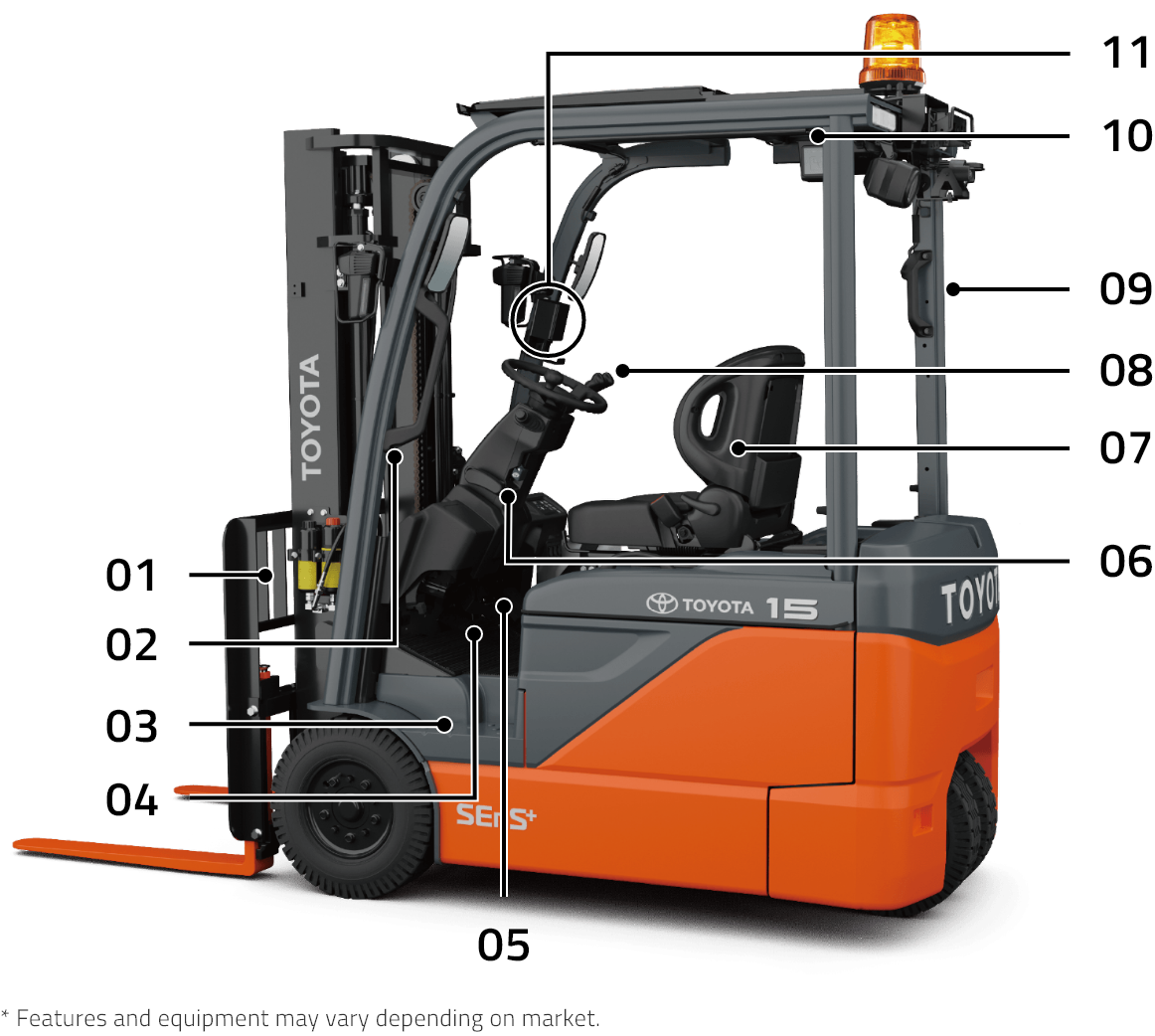 01 FORK VIBRATION DAMPER
By installing two accumulators in the hydraulic circuit of the lift cylinder, fork vibration is absorbed over a wide range of load weight.
Images comparing travel on uneven ground with and without Fork Vibration Damper:
The truck without Fork Vibration Damper, large waves occurred in the tank.
The truck with Fork Vibration Damper absorbs vibration.

02 LARGE ASSIST GRIP
The Large Assist Grip supports easy entry and exit for every operator.
03 LOW AND WIDE STEP
The low and wide step allows the operator to easy entry and exit with a natural posture.
04 FOOT-ACTIVATED PARKING BRAKE
The parking brake can be engaged with just a single foot-press.
05 EZ PEDAL
This accelerator pedal can be used to change the direction of travel by pressing the left side for forward travel and the right side for reversing.
06 TILT STEERING ADJUSTING LEVER
The steering wheel position can be adjusted to an optimal angle.
07 ORS SEAT
The ORS seat can be adjusted 150 mm forward and backward and supports a comfortable operating posture by means of side wings and a seatbelt.
* ORS: Operator Restraint System
08 SMALL-DIAMETER STEERING WHEEL
The small-diameter steering wheel with the full hydraulic power steering system provides excellent maneuverability.
Steering wheel diameter 300 mm
09 REAR PILLAR ASSIST GRIP
This assist grip with a horn button enhances reverse travel comfort and offers easy horn operation during reverse traveling.
10 SMART ENTRY SYSTEM
Only registered operators can operate trucks. This system prevents unauthorized use of trucks by unregistered operators.
11 PENCIL AND TAPE HOLDER
This iron holder is useful for temporarily storing small items such as pencils and adhesive tape.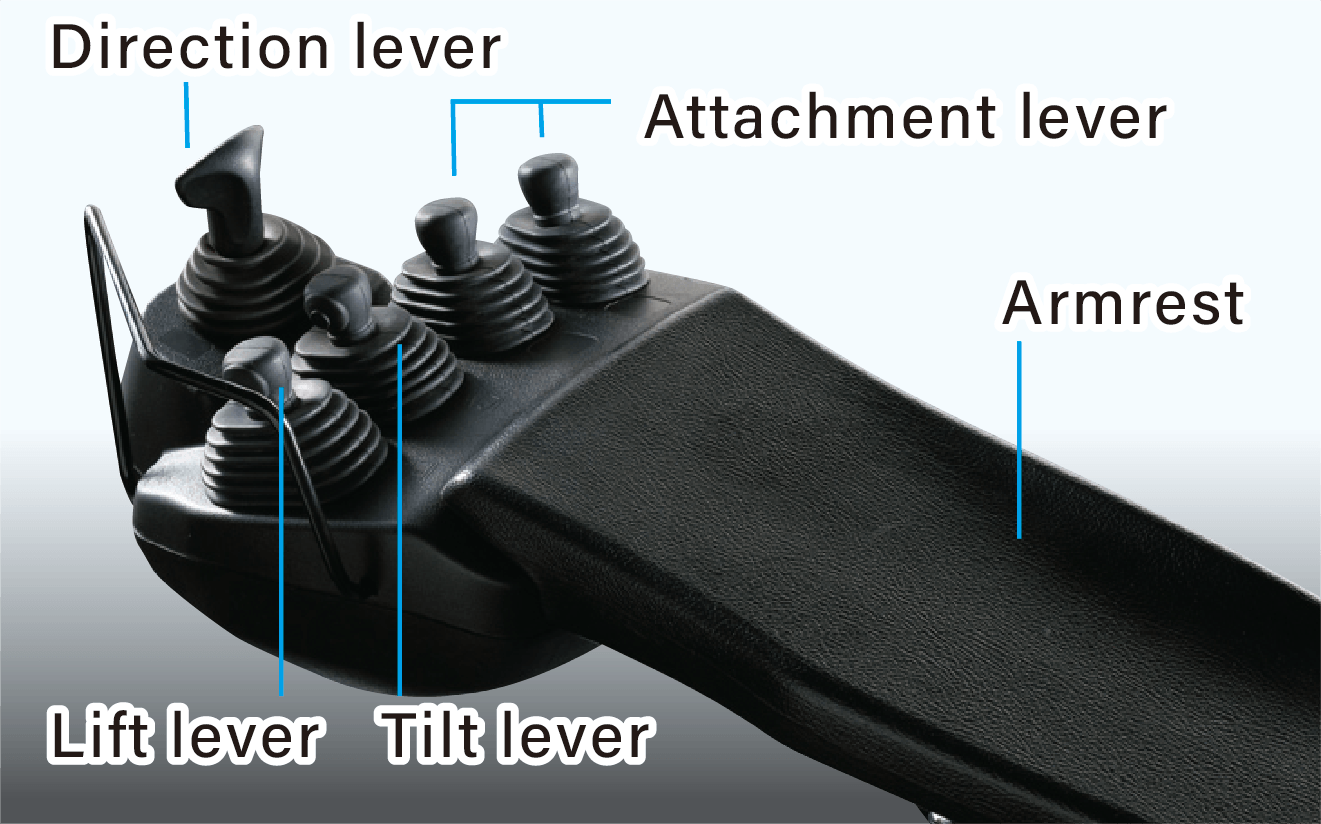 MINI LEVER
The Mini Lever allows smooth operation. The design featuring an armrest also helps to reduce the operator's fatigue.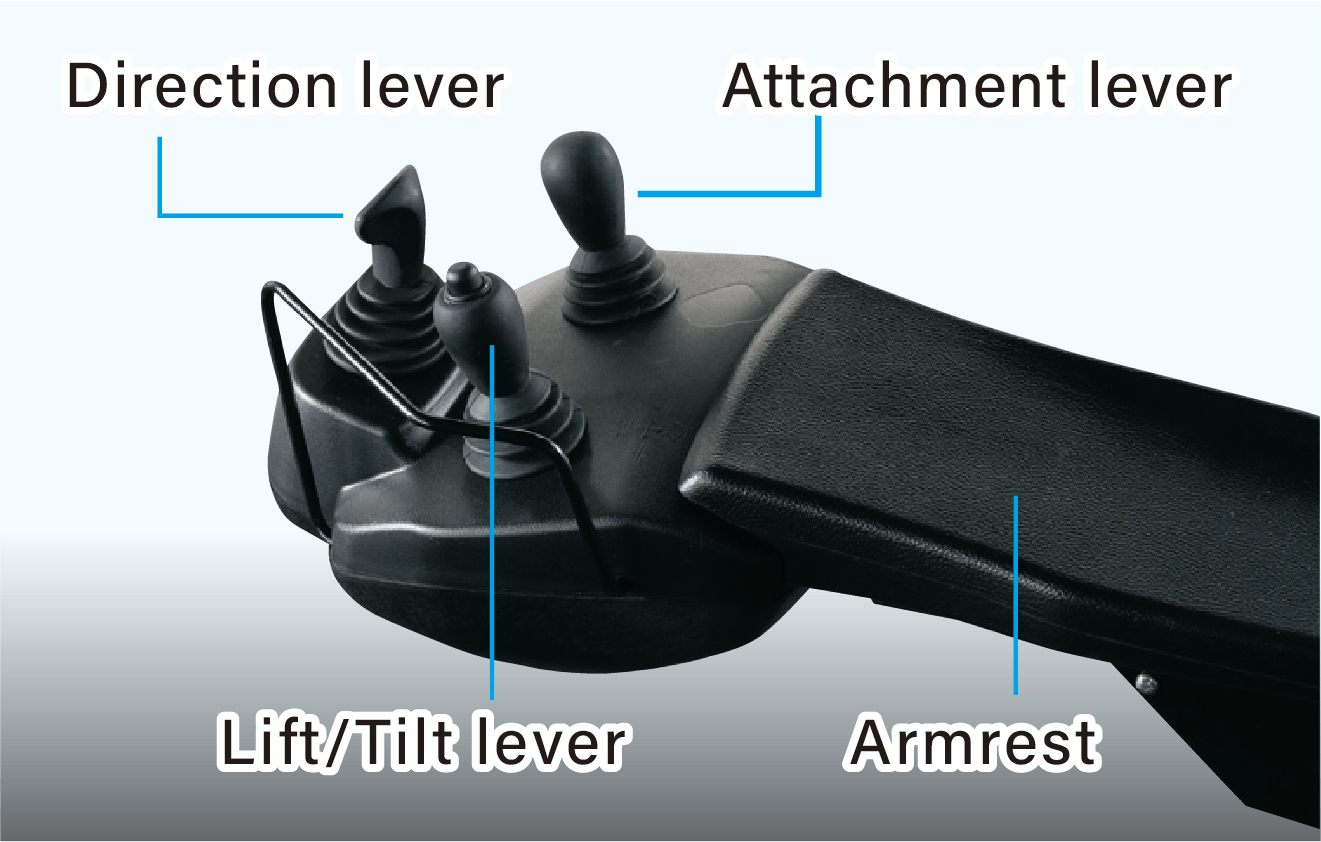 JOYSTICK
This makes it possible to perform lift and tilt operations simultaneously.
SUPPORT FOR SMOOTH OPERATION ON SLOPES

SLOPE SENSING AUTO POWER MODE SELECTOR
This detects the slope angle and automatically switches the driving performance to high power mode.
* If the High Power mode ("H" mode) is used on flat ground, the traveling performance will not change on slopes.
* The difference in the traveling speed will be small when traveling up the steep slope and the performance level is close to the maximum level.

ANTI-ROLLBACK
When the accelerator or brake pedal is released on slopes, the forklift stops and then descends at a constant speed. This helps to ensure smooth restart operation on slopes.
The descending speed can be selected between 0.5 km/h and 4.0 km/h.